My name is Tasha Lewis, and I am a twenty-seven year old artist from Indianapolis, Indiana currently living in Jersey City and working in a studio in Newark, NJ. Below you can read more about my art practice in general and specifically how I create each magnetic cyanotype butterfly. For a broader view of what I do, please visit my website www.TashaLewis.info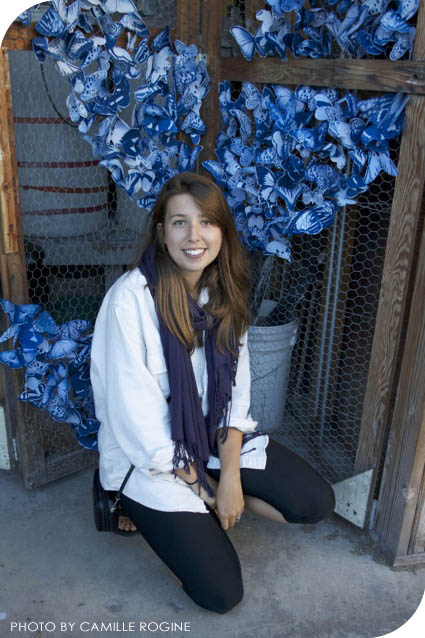 My art practice combines photography and sculpture with the purpose of shaping space and the viewer's experience. I start with digital negatives which I print onto fabric using the cyanotype process. My sculptures are created from mixed-media forms that are are flexible, light and made from mostly recycled materials. With magnets or keyhole mounts, I am able to install these forms leaping through unexpected vessels or barriers. The final creatures are covered in a skin of fabric images that I collage and hand-sew together. They are part photographic illusion, part sculptural reality.

I am drawn to the cyanotype process both because of its history and because of its flexibility. My initial inspiration came from an investigation of the cultural, scientific and historical context in which the cyanotype process was discovered. Popularized by scientists, and botanists in particular, the cyanotype is intrinsically tied into the scientific recording boom of the late 19th and early 20th century. Using this cultural history as a foundation, I built a menagerie of new creatures that seek to re-imagine our relationship with natural specimens.
The cyanotype process is a pair of chemicals that, when mixed, become photosensitive. It was discovered in the 1840s and has recently experienced a renaissance due to contemporary artists and alternative photography workshops. These chemicals can then be painted onto paper, ceramic, wood or fabric. I have found that cyanotype prints on fabric provide a flexible and durable base for my sculptures and installations.

In order to print an image, you must first have a negative. I create my negatives by sourcing images from Google Image Searches and manipulating them in PhotoShop. I print the negatives off on transparency films, and create matched pairs in which I sandwich a single piece of cyanotype cloth. Because the fabric has been coated in the chemical, it is naturally able to be printed on both sides. I am able to use this to my advantage by printing each side with the same registered image. The end result mimics a real butterfly's wing almost exactly.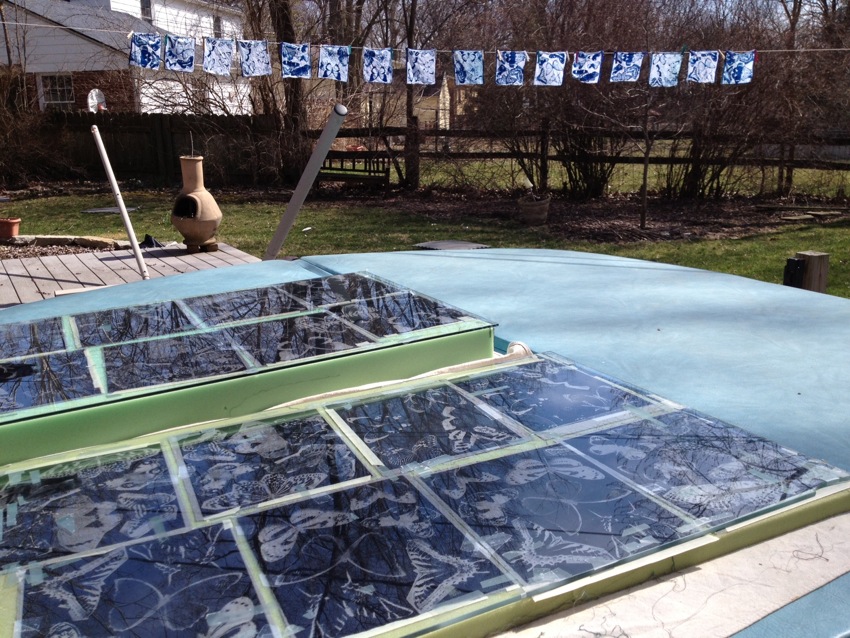 Each cyanotype is exposed to sunlight for about six minutes in a glass frame, like the one in the photograph above, and then washed out in water and hydrogen peroxide. Once they are washed, the image is fixed and will not be effected by additional sunlight.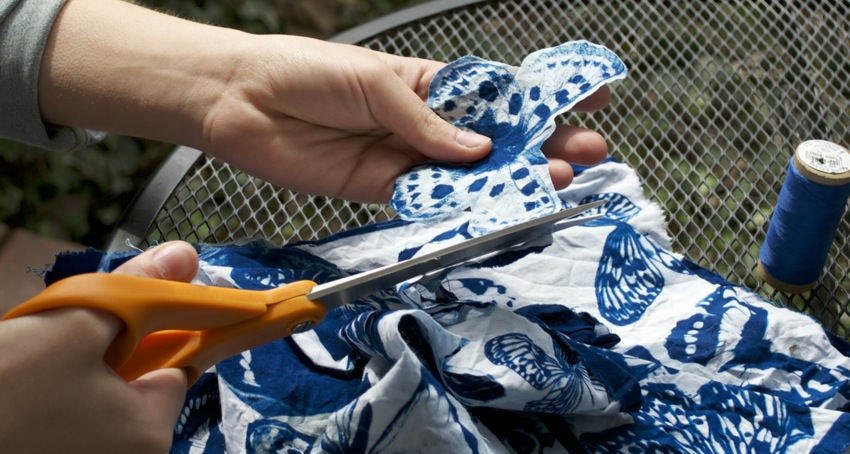 After they dry, I cut out each butterfly shape by hand and use a glue to stiffen the fabric. Once stiffened, I can hand-sew a small magnet to the body of the butterfly. Now they are ready to stick to any iron, steel, or tin surface.